What a celebration! This weekend the fabulous digital scrapbooking store, Scrap Matters, turns 3! I fell in love with this store shortly after it debuted, and it continues to be my favorite digi site on the web. The community is so incredibly positive and upbeat and the gallery inpires me every time I visit. Plus, the designers . . . my goodness, do the designers ROCK!
So in honor of three amazing years of bringing the world creativity and inspiration, Scrap Matters is having a birthday bash all weekend long. See my previous post for the details! Today the designers and creative team members are giving away freebies made with Cupcakes & Candles, the huge birthday collab kit that you can get FREE with a $20 purchase during the birthday celebration! You probably came here from
Val's blog
. If you have missed any part of the train up to this point, you can head to
Scrap Matters
to get the entire blog train list.
Before I give you my freebie I will share one of my favorite birthday memories. Every girl looks forward to her Sweet 16, right? It's the big year when something magical is supposed to happen to turn a girl into a young woman . . . maybe it's the right to get a driver's license, or date, or just be considered more grown up. Anyway, 16 is supposes to be big and important and is worthy of a huge celebration. Well, my 16th birthday just happened to fall on Easter Sunday. No big party for me! All my friends were obviously with their families for the weekend and I had no one but family to "party" with.
It turns out that I have a pretty amazing family. We used to go to a family cabin in the mountains every Easter and Thanksgiving and spend the day there eating, playing games, going on hikes, and watching for wild turkey and deer. This Easter was no different. We packed the trucks and headed up the bumpy dirt road to the cabin. When we arrived, my aunt and uncle had been there for a few hours already to get the woodstove going and heat the cabin for the rest of us. I walked inside and . . . TA-DA!!! There were streamers and balloons throughout the cabin and a sign that had a Happy 16th Birthday message on it for me! Everyone in the family was in on my surprise and it made me feel so special and important. My birthday turned out great - perhaps even better than had I spent it with friends.
And wouldn't you know it, my next "big" birthday - my 21st - also fell on Easter weekend? That's a whole other story . . .
OK, now for the portion of this post you are all here for! Here is my gift to you today: a frame cluster perfect for any birthday photo OR any celebration photo you may have! Think about New Year's Eve, graduation, and other events where you celebrated with others.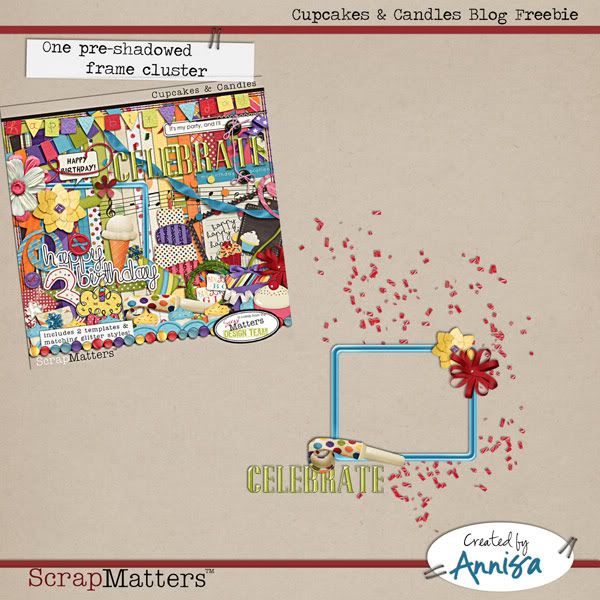 You can grab the cluster
HERE
. I hope you enjoy it!
Your next stop on the blog train is the fabulous
Stefanie's blog
. Enjoy picking up the rest of the freebies, and don't forget to celebrate with everyone at Scrap Matters all weekend long!