Each summer we go to the beach for a week with my mother, stepfather, sister Jennifer and her family, and sister Becky and her family. We always have a fantastic time together and look forward to the vacation all year long. But this is almost always our only vacation . . . meaning we don't take any trips as just the Meyers family of five except for day trips to local places of interest. So this year we decided to leave a day early and spend a full day in Williamsburg, just us.

After a late start, horrendous, terrible, nightmarish traffic and a bout of carsickness, we finally pulled up to the Governor's Inn around 2:00 am. We crashed. But with the sunrise came a new day and we were refreshed and ready to enjoy Colonial Williamsburg.
We walked a couple of blocks to buy our passes and then began our journey! We started our day by going into several of the buildings and shops to learn about different trades and ways of life during the 1700's. This woman knew everything you can imagine about turning cotton and wool into fabric. She showed us how to prepare the cotton, how to turn it into yarn, how to wind it, and finally how to turn that yarn into fabric.
Cory and I were especially interested in the gorgeous gardens since we've been expanding our backyard garden for a few years now. We got lots of ideas and inspiration!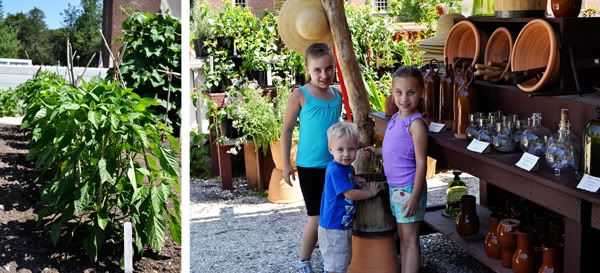 One of the best parts of Williamsburg is seeing all the buildings preserved exactly as they were all those years ago and seeing the employees dressed in period attire and talking / behaving as though it were 1783 instead of 2011. There are so many awesome photo opps. These are two of my favorites from our day:

Cory surprised us with a carriage ride - fun! Our driver / guide was fantastic. She told us so much about Williamsburg that neither Cory or I knew before, despite our numerous trips to Williamsburg in the past. For example, Queen Elizabeth visited Williamsburg when she was a girl and rode in the very same carriage we rode in. How cool is that? She also answered all of our questions, and the girls had quite a few! They wanted to know if there were balls during there. Yes, there were. Did Felicity and Elizabeth of American Girl fame really live there? Yes, they did. She even showed us Felicity's house!
As it turns out, only the very, very super wealthy citizens could afford a carriage. It was the equivalent of owning a private jet today. Wow!
And here is Felicity's house. Elizabeth's family lived not too far from here but we didn't get to see her home.
After our carriage ride we continued visiting various shops and learning about different trades. This cobbler is noteworthy not only for his knowledge of making shoes, but because he looked and talked SO much like Russell Crowe! When we left his shop I looked at Cory and said, "Didn't he look like . . . " and Cory immediately finished with, "Russell Crowe!" It was uncanny.
Another favorite shop was the wigmaker's shop. This woman really knew her stuff about hair. I think the girls found it particularly interesting that men wore wigs far more often than women, that the hair was often animal hair, and that peasant girls overseas were paid a hefty price for their hair because foreign hair was believed to be better than American girls' hair. We also learned that the term "blockhead" comes from this time period. Men would have a block of wood carved into the shape of their heads and the wigs were custom made on the block heads. Neat!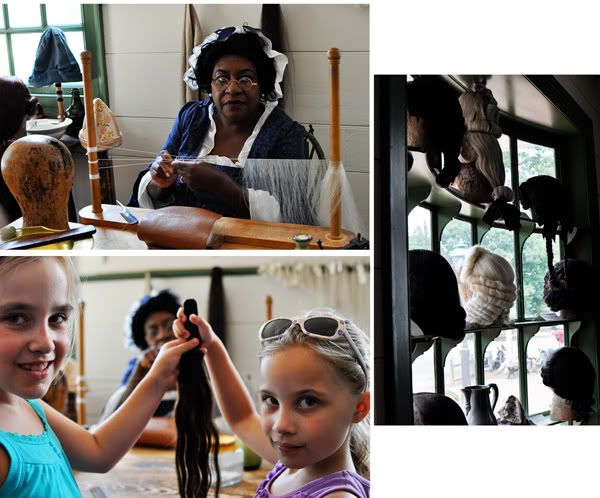 Our carriage driver told us to visit the brickyard because they are making bricks for a new building and invite guests to participate. The brickyard is off the beaten path - I don't think I'd ever visited it before. But it sounded intriquing so we made a point to head that way. There were three men under a tent making bricks out of red clay. They explained the process and how Williamsburg has so much clay they are likely to never run out. Behind where they worked were two big pits of clay. They would scoop up a pile, make some bricks, and scoop up some more. It looked like dirty work to me.
Then they said that the clay has to constantly be kneaded to keep it a good consistency. And here is where the fun began. Anyone who wanted to could take off their shoes, hop in the pits and work the clay with their feet! Of course the girls jumped at the chance. It totally reminded me of Lucy and Ethel stomping the grapes!
When they had enough and were adequately covered in clay, the girls headed to big barrels of water to wash themselves clean - which was not easy. Cory helped them and as a result, we got one of the best quotes ever from Sasha. The girls had just been to VBS at church and one of the lessons was about washing guests feet upon entering a home. One time Jesus washed his disciples' feet because no servant appeared to do the task. So Sasha told Cory, "You are just like Jesus. You have a servant's heart." Sigh. I love that girl!
So we continued on our journey and eventually ended up at the must-have photo op for Colonial Williamsburg: the stockades. I still have photos of my sisters and me in these stockades when we were kids. It was rather surreal to see my own kids in the very same ones!
There are also ankle stockades: you sit on a piece of wood and put your ankles in the holes. Cory and I posed for a photo and each of the girls took several pics of us. Funny this is, when I later looked at the photos there wasn't a single one where you could actually see the stockade! So here are our sad faces: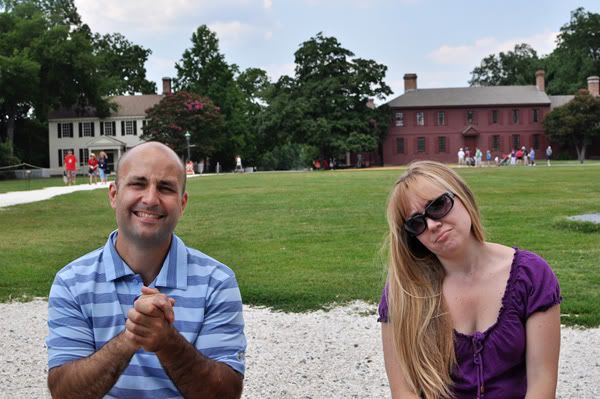 The day was very, very hot and by this time we were all tired, sweaty, and a bit worn-out. So since we were close the markplace we decided to visit one of my favorite bookstores: The College of William and Mary Bookstore. We were pleasantly surprised to discover a local children's author who was signing copies of his historical graphic novels. We talked to him for quite some time and each of the girls picked a book. Clara's is about "super" women in history (and includes the story of Clara Barton) and Sasha's is about key events during the Revolution.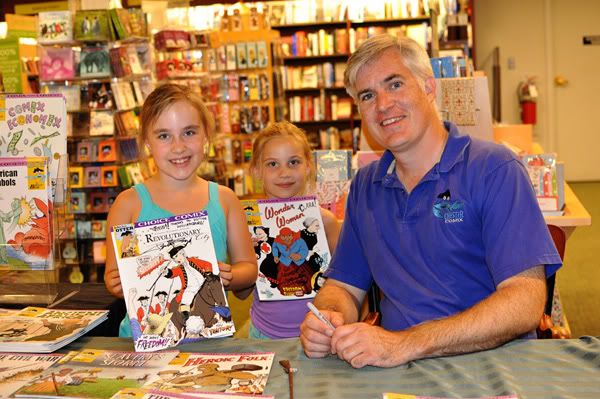 Because we're dorks, we had to do it. We had to take a photo of ourselves in the elevator - the elevator with a mirrored ceiling! Photos like this one always end up amongst my favorites. They are so candid, funny, and, well, us!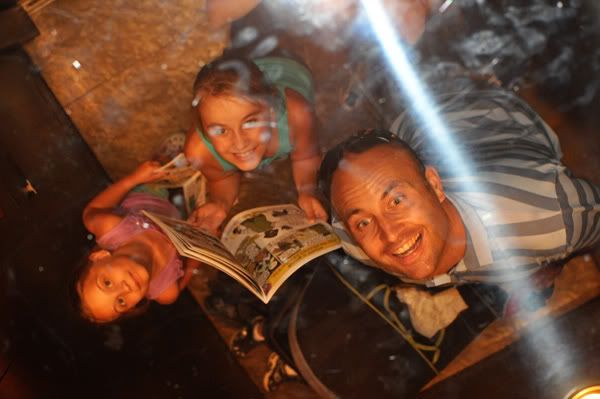 All day long the girls begged for a pretty straw sun hat with a fancy ribbon. But at $25 a pop, they were out of the question. So I found these tricorns for a lot less money at the market's toy store and let the girls have one. Cory was not too pleased about this since tricorns are for boys, but I think they look adorable!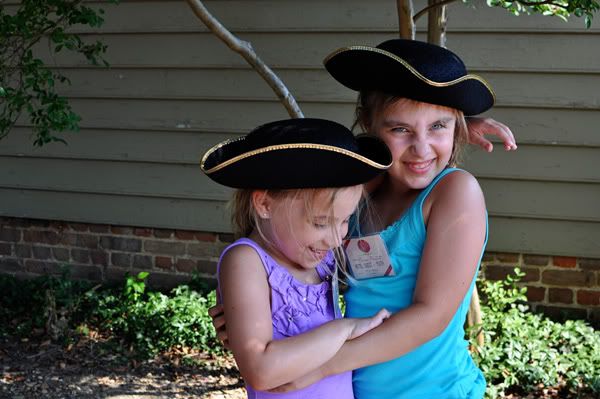 By this time it was almost time for dinner and we were ready for a rest. We found some totally cool trees beside the House of Burgesses and let the kids play. I so wish we had interesting trees like these in Pennsylvania!
Cory and I absolutely LOVE the peanut soup at the King's Arms Tavern, so we had made a reservation for dinner there. It is our go-to tavern!
The soup was amazing, as was the entire meal. The lady of the house spent a lot of time in our dining room telling everyone about the history of the building and the tavern. There were also several musicians who entertained us while we ate. It was definitely a fantastic way to end our day!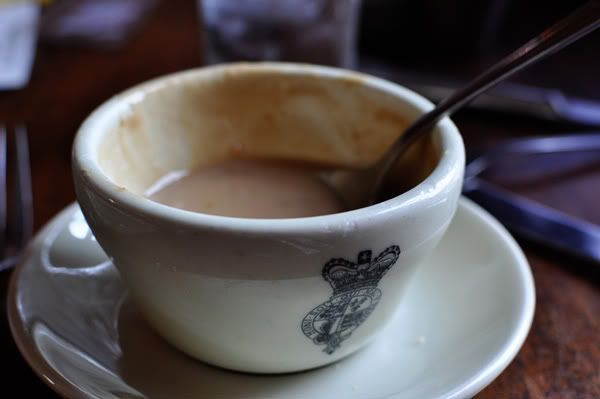 As we ate we heard the sound of a fife and drum parade coming our way. My photos are blurry since I had to shoot through the old wavy glass of the tavern, but they are neat nonetheless.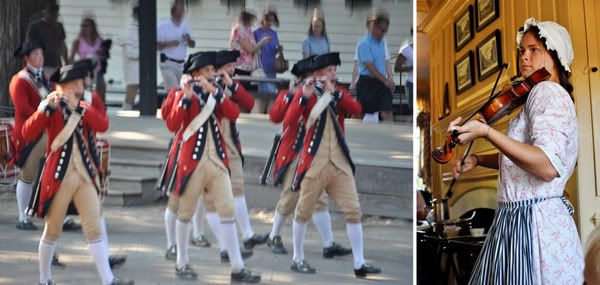 And the day was done. Most of Colonial Williamsburg was closed by the time we left the tavern, and we were all ready to call it a day anyway. So we headed back to our van and made our way to the next hotel where my mother, stepfather, and Becky and her family were waiting to crash for the night. I'm so glad we had this day together, a day to enjoy vacation . . .
just us
.