Last week was awesome. Inspiring. Amazing.
I kissed my kids and husband goodbye on Tuesday evening and headed to Baltimore to catch an early flight to Minneapolis, Minnesota the next morning. Why Minneapolis? Well . . . it was time for Tastefully Simple's National Conference! I have attended this conference five times since I joined the company back in 2004 and it is seriously a week I look forward to all year long. When most people hear the word "conference" they think of boring meetings where you're stuck in a room full of boring people telling you boring information. And that is quite true for many, many companies. But not Tastefully Simple! TS conferences are FUN!!! Yes, we are trained and taught new things, but it is always done in a very fun manner. In fact, our National Conference is so much fun that it has officially been renamed "Party Palooza"! Who wouldn't want to go to
that
every year?
So once again I boarded a plane with my sister Jen, my mother, and my newest nephew, Jayce. My mom has actually attended three Nationals now in order to care for a baby while Jen and I are in session. She's such an awesome Nana!
We arrived in Minneapolis shortly after noon and quickly got settled in at the Hilton Towers. Then we headed out into the city to eat and shop. One of our favorite restaurants in Minneapolis is The News Room. We have yet to have a bad meal there! There is a big wooden mermaid in the lobby that intriqued Jayce. This is the "tame" photo I took (the other one shows him touching her bosom as he gazed up at her face!):
After lunch we took the lightrail to The Mall of America to do some shopping. Yep, one of many perks of going to conference is getting to visit the biggest mall in America! I finally found a pair of comfy flips to replace my brown shoes that were falling apart - yay! We browsed the many stores and then I had a special treat. My dear friend Theresa allowed me to have dinner with her husband Brian who just happened to be in Minneapolis on business at the same time. We ate at Bubba Gump's and had a really good time.


Back on the streets by our hotel we spotted this big metal chicken. There is a story behind this chicken . . . a really, really funny story . . .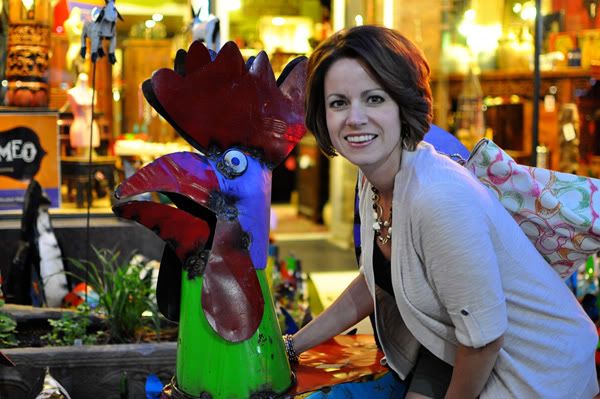 The three of us were absolutely wiped out from a long day of travel: up by 5 am, travel via planes, trains and automobiles, shopping, eating, etc . . . so we called it a night. I think we were all asleep as soon as our heads hit the pillows, including Jayce.


But the next morning brought a new day and lots more to do. We began by heading to another fav restaurant, Hell's Kitchen. I decided to try a dish that I've heard rave reviews about: Lemon Ricotta Pancakes. Oh. My. Word. These babies didn't require a smidge of butter or a drop of syrup. They were so light, comparable to a crepe, and the lemon and ricotta made them melt in my mouth. Dear me, they were delicious.

We ate breakfast with the rest of our team members who were at conference, plus a couple "adopted" team members. I didn't notice it until now, but almost all the blondes are up front and the brunettes are in the back! How does that happen?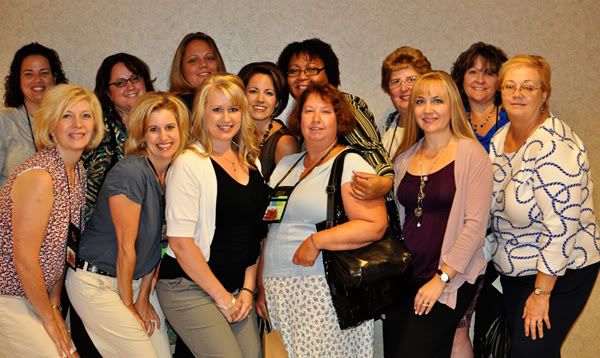 With our bellies full, we headed to the convention center for day one of conference. The theme this year was "Cut Loose" and the entire convention center - both inside the main room and throughout the halls - was decorated accordingly with dance floors, stars, and a dance party feel. TS goes all out with decorations!
We were greeted by our founder and CEO, Jill Blashack Strahan, who got all of us worked up and inspired us to "Magnify the best. Focus on what's next."
One thing that TS always does at every conference is give away really nice prizes. They are referred to as "Hot Seat" drawings; your cheeks have to be in your seat in order to win. Some of the prizes are gift cards to Target, Barnes & Noble, and Bloomingdales, prepaid Visa cards, handbags from Fossil and Coach, TS items, and more. I'm one who seriously never wins
anything
, so imagine my surprise when my name was drawn out of a bag of over 1,400 consultants and I won a $300 Best Buy gift card! I thought I'd lost my mind! Now I have to decide how to use it . . .
My sister Jen was a featured speaker for one of the Leadership Breakout Sessions that afternoon. She told her story of why she joined Tastefully Simple and the challenges that she's had to overcome over the years in order to grow a strong business and help others do the same. It was very heartfelt and for the rest of the conference people approached her to tell her what a fantastic job she did and how she inspired them. How proud I am to be her first team member and to take this journey with her!
The next day was full of product unveilings for the fall / winter catalog which will be available to clients on September 1st. New soups, seasonings, drink mixes, and FOUR PAGES OF CHOCOLATE are among the 31 products soon to hit our product shelves! WOOT!!!
We also were entertained by a keynote speaker, Frank Miles. He was honestly one of the funniest people I have ever heard in my life. He mixed his message of "face life and laugh at fear" among stand-up comedy, juggling, magic, and even ping-pong ballet. He was absolutely hilarious and inspirational at the same time. You may have seen him on America's Got Talent doing stand up recently - he is SO talented!
After a full day of unveilings and training I joined a slew of other consultants who are on my extended team for dinner and laughs. Here we are posing with some larger-than-life products: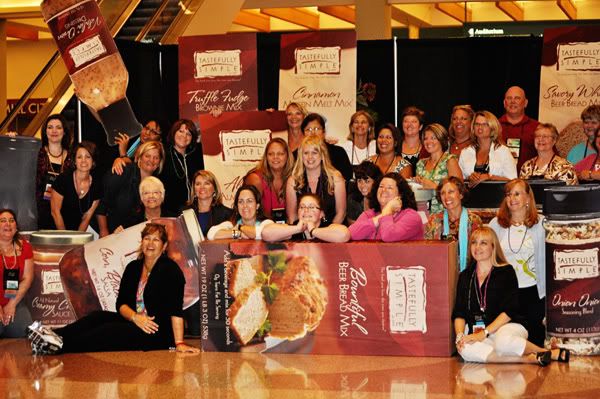 Like I've said before, Tastefully Simple people know how to have FUN! The team at Headquarters gets really into character when presenting things on stage, as you can see below. This is Travis, a.k.a VP of Marketing, doing some John Travolta moves as he presents our new "Jacked Up Brand" onstage.
We also know how to celebrate one another. Consultants were recognized on stage for various accomplishments including top sales, recruiting, leader development, and personal promotions. Here is team member Alissa walking the stage for promoting to Team Manager!
I always try to get a pic of Jen and I together since not only is she my sister, she's my sponsor. How fun it has been to run my business alongside my sister all these years! And for the past year our other sister, Becky, has been partying with us, too. It's a family thing!
And here is another fellow team member, Christa, being recognized for promoting to Senior Team Manager!
How many jobs out there celebrate their employees for simply doing their job well? TS consultants truly are blessed.
Towards the end of the day I got a good pic of the ladies at my table. These gals ROCK!
That evening my favorite part of Nationals took place - the Victory Celebration and Awards Dinner. Check out how TS made the main stage all glitzy!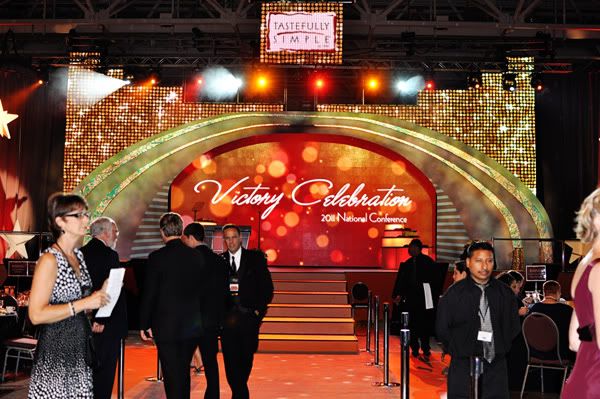 Jen walked the stage twice that night, once for Movers & Shakers Sales Level 2 and once for Leader Development. Here she is with her awesome sponsor, Karen: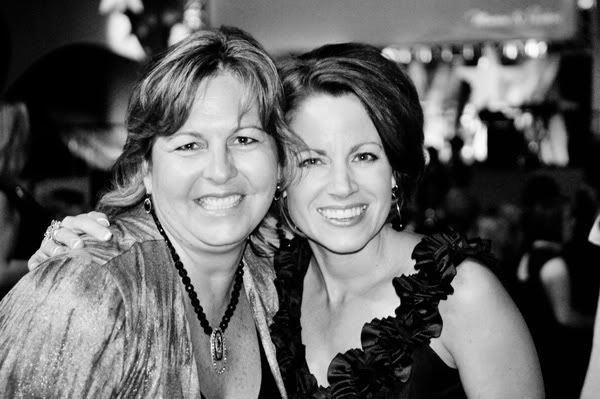 And here are some of us team mates (Tastebuds) doing our "ta-da!"
It was a fantastic night.
Throughout conference many great quotes are featured. I LOVE quotes and find them very inspirational. This was one of my favorites of the week: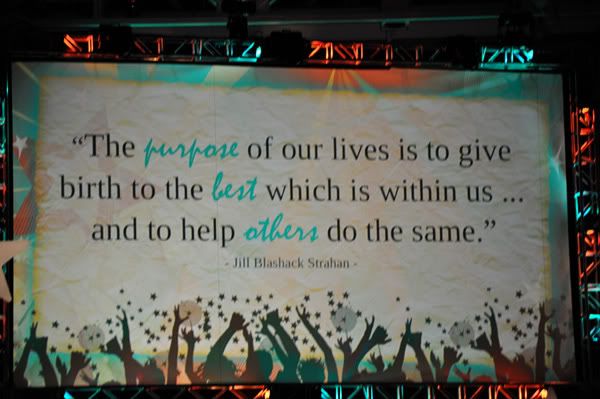 And on that note, here are some unveilings for YOU! Tastefully Simple is wonderful and changes people's lives in so many ways. The products are HUGE time savers in the kitchen and make even the worst cooks feel like a chef! The new products are SO yummy! Check them out by clicking the photo below. If something sounds good to you, please let me know if you'd like to have a taste-testing party to try them with your friends and earn them for free! Or if you'd like to place an order on September 1st when they are available, I can help you with that, too.
And if you think Tastefully Simple looks like an awful lot of fun and you've been trying to find a way to make extra income (or replace an income!), we have the BEST new consultant incentive ever! Normally it costs $170 to become a consultant, which is still a good deal considering all you get when you join. From now until September 30th, you can join Tastefully Simple for just $85! And to make it even better, when you activate by September 30th you'll get a $50 credit on your account! That means you'll effectively start your own business for just $35!!!
I can't begin to tell you all the ways Tastefully Simple has positively impacted my life for the past 7 1/2 years, and I'd love nothing more than to help you find success with this company, too. Check out the link below and if it sounds interesting to you or you know someone who needs Tastefully Simple in his or her life, please contact me.
>
I'm gearing up for another busy fall party season and can hardly wait for the next conference with my TS family! I hope you'll join us for the fun!