Tis the season for birthdays - and lots of them! Many of my family members have birthdays during the August - December months so there are many parties and special dinners during this time. It gets quite busy! This year Cory and I decided to take it easy and have one combo party for Sasha and Clara. Their birthdays are just six weeks apart, so we picked one of the only free Saturdays we have (today, the 3rd) and had a simple pizza party in the backyard with our family.
I was actually out of state on Clara's birthday this year. :( It's always hard to miss a birthday and I think this was the third birthday of Clara's that I've missed because Tastefully Simple's National Conference fell over her big day. But she was a trooper. Cory made her entire birthday weekend extra special and she knew her party was coming soon. Sasha's birthday is coming up at the end of September, so she got a bit of an early celebration today. We'll still do something special on her actual birthday, too.
My little girl is not so little anymore - Clara turned 6 on August 13th! I'm so proud of her and her fearless personality. She is having a blast in kindergarten and has been reading quite well for the past year. She's very excited to be a Girl Scout Daisy this year and to add playing soccer to her list of activities!
Sasha turns 8 on September 30th! Where did the years go? Wasn't she just a 5.5 pound little pink bundle? Sasha is amazing in so many ways. She is very sensitive, very in tune to her own and others' feelings, very smart, and very much into everything girly and sparkly. She is now in the 2nd grade and loving it! She is also starting to play soccer this year for the first time - something she never thought she'd do, but she's looking forward to it.
So we invited all of our family members to come over for a pizza party this evening. It was warm and muggy, but the cousins all had a blast playing catch with a football, riding down a hill in a Red Flyer wagon, and just playing together outside. It was awesome to see so many family members together for a rather relaxing evening since it doesn't happen all that often. And moments like this one need to happen more often:
That's my grandmother, Mom-Mom, with my newest nephew, Jayce. I think they are playing patty-cake. So cute!
Clearly, the girls were excited to dive into their presents!
Many of the gifts will be shared, like this adorable chef's outfit and accessories for their American Girl dolls.
All of the gifts were perfect. Art supplies, Barbie and American Girl goodies, clothes, jewelry . . . these girls were wonderfully spoiled.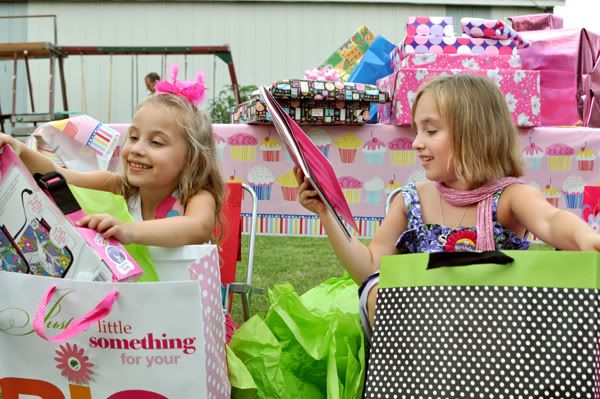 The last gifts that Sasha and Clara opened were from Cory and me. Clara has been asking for a GoGo and Me dog for a year. Actually, "asking" isn't quite the right word. "Begging" is more like it. It's the only thing she has really wanted and consistently talked about for a year. I didn't want to get it because it's expensive and honestly - we have two REAL dogs! She can walk and play with them! But I don't want her to be in therapy in twenty years talking about how her parents refused to get her the only thing she really ever wanted . . .
So here it is. GoGo and Me Fur Real Pet is officially in the hands of an ecstatic Clara!
I wasn't quite sure what to get for Sasha. I thought I'd give her a nice, introductory level digital camera since she likes to take pictures with my camera, but I couldn't find one I liked for less than $200. Not gonna happen. Then I happened to come upon Flip cams on clearance and "DING DING DING"!!! That was it! Sasha is always asking me to take her and Clara doing little skits and things, so this is perfect. She can make her own videos and will have a blast. She is quite excited and can hardly wait to start using her Flip tomorrow once it's charged.
Time for cake! I was going to make the girls' cakes this year, but when I asked them what kind of cake they wanted they requested "the cake that Dixon had last year." Well, it was actually a Food Lion cake! We got him a chocolate cake from Food Lion to celebrate his birthday on the actual day since his party was held on a different day. The girls liked that cake and remembered it. Works for me! Cory made three batches of ice cream (vanilla, Oreo, and mint chocolate chip) and I pulled out a triple chocolate fudge cake and a red velevet cake made by the fabulous "chefs" of Food Lion.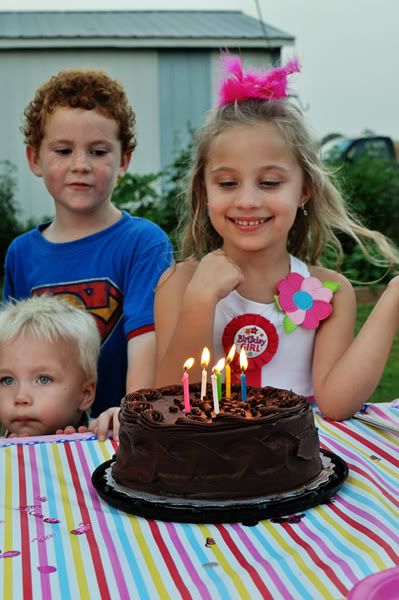 The girls were happy and the cakes were actually tasty!
Finally, it was time for the pinata. This was one of the only things the girls said they wanted to do at their party, so Dixon and I shopped for a pinata and stuffed it full of candy.
Ryan managed to crack that sucker open with his mighty swings and it was a candy free-for-all!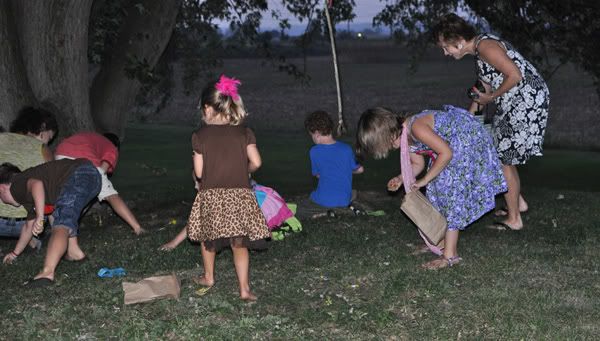 I have to say that this birthday party was great - at least in my humble opinion. It was so laid-back and stress-free. The kids had fun just being kids and the adults just sat back and talked and enjoyed the evening. I think this may be the way we celebrate from now on! The kids are now all snoozing away in bed . . . all three of mine plus my sweet niece Kari who decided to stay overnight. Fun!
Happy Birthday to my loveable girls! May this next year bring you happiness, fun, and many dreams come true.
XOXO